"ALSKOM" JS IC CONGRATULATES YOU ON THE DAY OF INDEPENDENCE OF OUR COUNTRY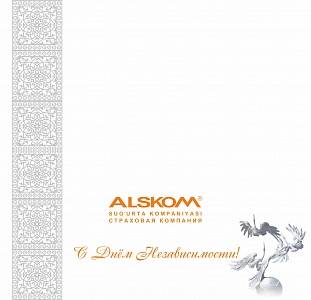 29 August 2019
Dear compatriots!
"ALSKOM" JS Insurance Company sincerely congratulates You on the Independence Day of the Republic of Uzbekistan and wishes You prosperity, new open spaces and horizons, success and perspectives!
The staff of "ALSKOM" JS Insurance Company wishes You a happy life, prosperity, health, memorable traditions and good friends! May the sky of Uzbekistan always be peaceful, may every corner of the country give joy to the heart, inspiration and faith in a real miracle!
May our Independence be eternal!
Sincerely,
The staff of "ALSKOM" Insurance Company